Planr
Innovation Challenge Project
Project Type: Product Design
Role: UX Design, Visual Design, User Research
Overview
Planr is a social planning application born out of the need for a centralized on-the-go workflow. This application provided users with a platform that captures activities, tasks, meetings, social life, and time management all in one place. Planr is designed to address the everyday needs of this generation's students and full-time workers, especially those who travel or have a busy schedule to keep. It was also designed with accessibility in mind, with large typography set in minimal design, as well as voice-recognition integration.
The Challenge
This application began as a design challenge to allow users to plan their day in the most convenient way possible. My primary goal was to design a product that would have the capability to manage schedules, complete tasks, and improve daily workflow. As I began the design process however, the social and accessible aspects of this project became equally as important. To allow users to seamlessly schedule events, they need to be able to loop in with existing contacts, and I wanted to ensure use cases that required voice UI were considered as well.
Process
Research & Journey Mapping
Before designing this application, I made sure to ask some clarifying questions. First, what is the overall goal of the design? Second, what is the context of the problem space? Third, what are the users of this platform and what assumptions do we have about their behaviors and problems? The overall goal is to design an app that appeals to younger users and allows them to plan their lives on the go. The problem space of the challenge was the lack of connection between different planning products, and how to bring them together in a single platform. The users are primarily young students or full-time workers who need to plan their week.
Next, I wrote down the primary points of the user journey. These were: login, setup account, view current home events and tasks, create new event, check upcoming schedule, and view profile. These journey points were extremely helpful when going forward with my sketches. It was also during this phase that I explored the option of users accessing information or creating events using voice recognition. This would improve the on-the-go experience and speed of scheduling.
Sketches
After defining my problem space, I began sketching out some basic solutions for the application. I focused primarily on the "home" view of the app, where users could get a quick glance at their upcoming events and tasks, as well as the "create an event" view that lets users create different types of events. These experiences, along with basic design sketching, really came to fruition in this stage.
Wireframes
The next step in my design process for Planr was to take what I had learned during research and sketching and begin applying it to digital screens. I chose iOS as my platform, as it is the favored mobile experience among younger users. When creating my screens, I made sure to adhere to iOS 12 design guidelines, as well as the design system that I had begun to set in place for my app. During this phase, the information of different views became clearer - especially on the "tasks" view and the "calendar view".
Visual Designs
After the wireframes for Planr had been established and iterated lightly, I began fleshing out the design system and style guide I would use to create visual designs. I chose bright colors in hues of pinks, purples, and blue, because those colors are seen as "fun" and "innovative" respectively. Because this app is designed as a solution for a younger user base, I wanted to ensure the colors chosen made the chore of planning a fresh and upbeat experience.
Once the style guide was largely complete, I began applying visuals to the Planr wireframes. This process was largely iterative, as the style guide changed as the product came to life, and more instances, typography, and iconography became necessary.
Final Product
The final Planr app product is based on the initial design challenge to create a planning system for the current generation that integrates different planning and scheduling methods. The designed application fully integrates scheduling different types of events, appointments, or meetings, and provides capabilities around tasks and social networking.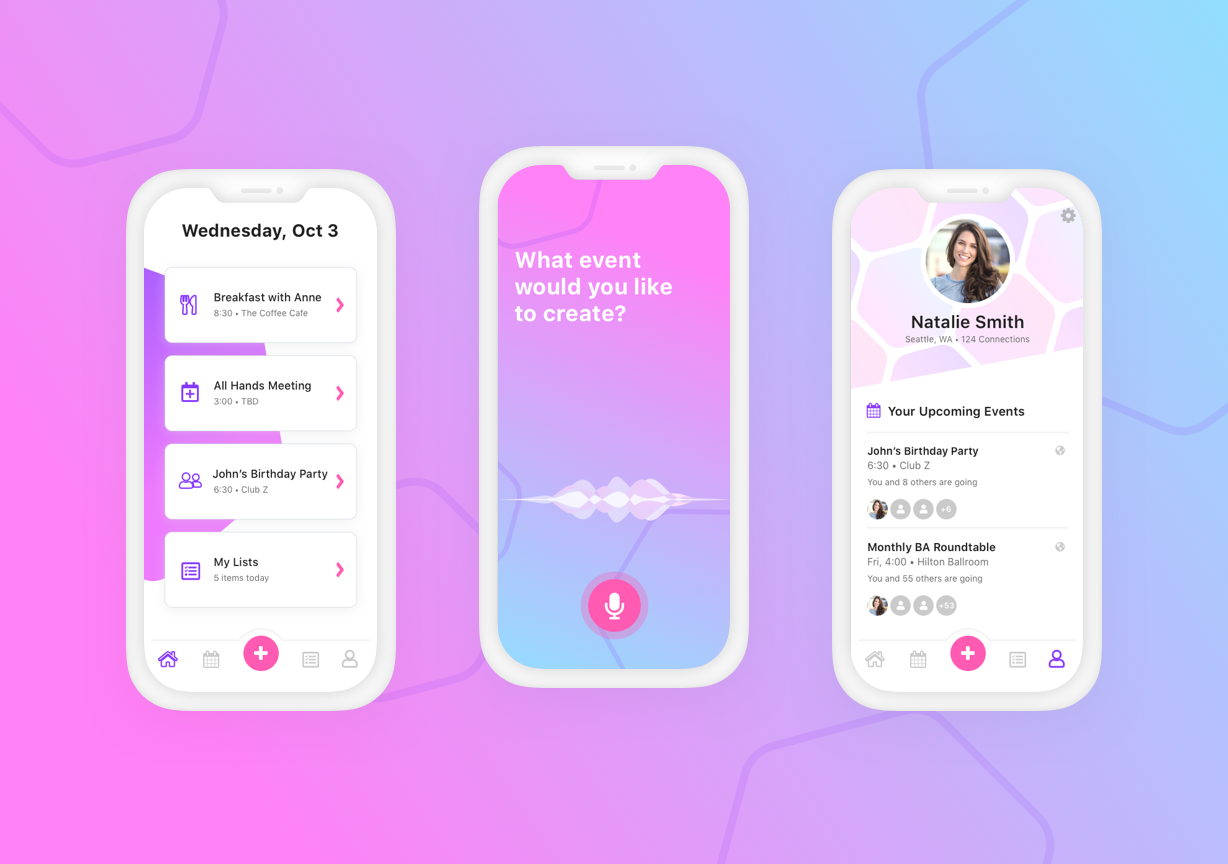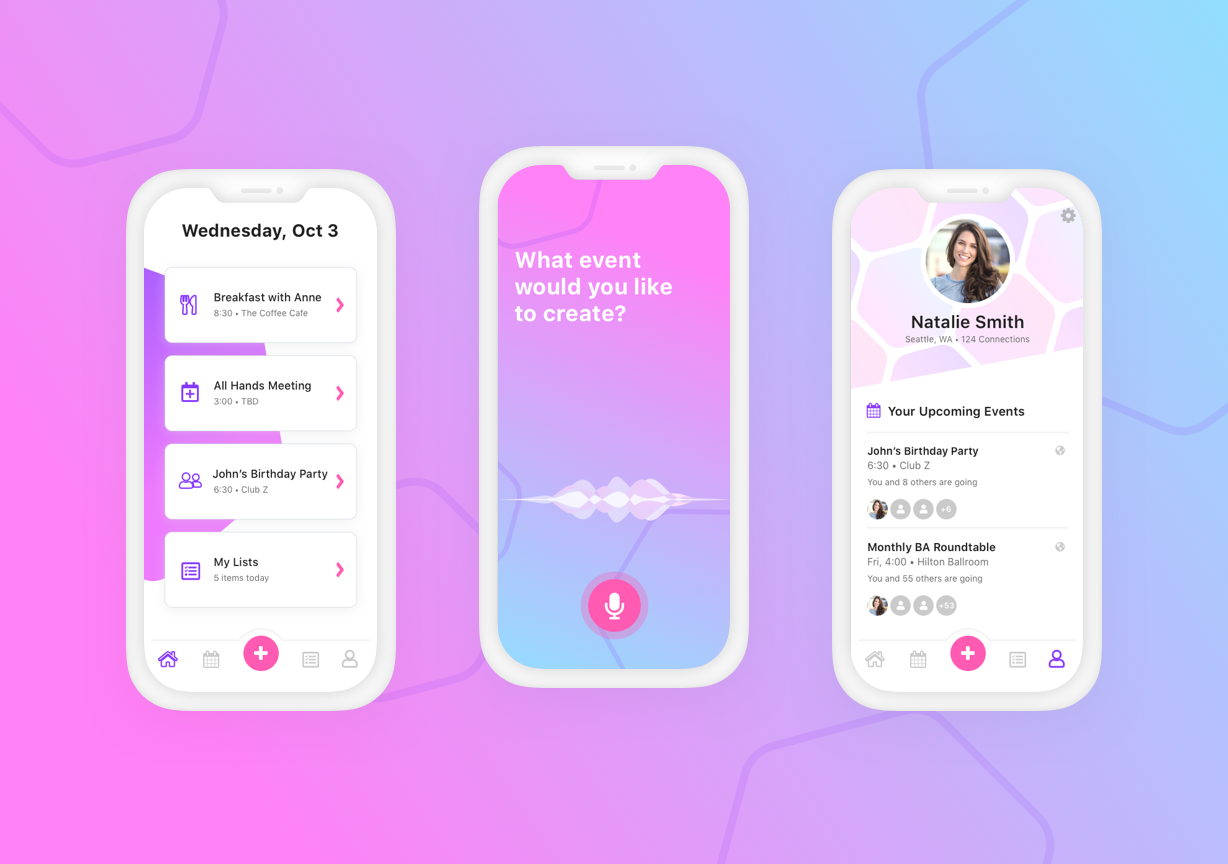 Reflection
Overall, Planr achieved nearly all that I was trying to accomplish in this design challenge. It addresses the planning and time management problem space for a younger user base, and has extended design use cases based on research and feedback. Planr fully integrates accessibility, and leverages conversational UI to increase on-the-go functionality. If I were to take this project a step further, and out of the design challenge scope, I would conduct more user research as well as usability testing on the current product design. I believe Planr would be a great tool for students and young professionals, as it provides time management and platform integration while incorporating accessibility design and social interactions.